Dame
Vivienne Westwood
, DBE (
Order of the British Empire)
, RDI (Royal Designers for Industry) , (born 8 April 1941) is an English fashion designer largely responsible for bringing modern punk and new wave fashions into the mainstream.
She is linked with the
Sex Pistols
via Malcolm McLaren and their SEX boutique on Kings Road, Chelsea in London during the 1970s. The shop was at 430 Kings Road.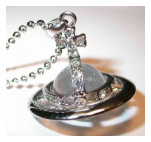 Biography

Early life
Westwood was born Vivienne Isabel Swire in the village of Tintwistle, Cheshire (now in the county of Derbyshire) on April 8, 1941.
Malcolm McLaren
Vivienne's first husband was Derek Westwood, with whom she had one child, Ben. Their marriage lasted three years. She then met Malcolm McLaren, later known for being the
manager for punk band The Sex Pistols
. The two lived in a council flat in Clapham and had a son named Joseph. Westwood continued to teach until 1971, when Malcolm decided to open a shop,
Let It Rock (also known as Sex, Too Fast To Live Too Young To Die, Seditionaries)
where Westwood began to sell her outrageous designs. During this period, Westwood, McLaren, and artist Jamie Reid were influenced by the Situationists. She still owns the shop, which is at 430 King's Road, and sells her Anglomania label from there. The shop is now known as World's End.
Punk
The punk style began to gain notoriety when the
Sex Pistols wore clothes from Westwood
and McLaren's shop at their first gig. The "punk style" included BDSM fashion, bondage gear, safety pins, razor blades, bicycle or lavatory chains on clothing and spiked dog collars for jewelry, as well as outrageous make-up and hair. The inclusion of more traditional elements of British design, such as tartan fabric, amongst the more unusual elements of her style only served to make the overall effect of her designs more shocking.
Together, Westwood and McLaren worked to revolutionise fashion, and the impact is still felt today. She has only a few exclusive shops, including three in London, two in Manchester, and one each in Liverpool, Newcastle and Leeds. A ninth opened in FH Mall, Nottingham, on 20th March 2008, and a tenth in Blake street, York, on 11th September 2008. Westwood modernised historical 17th and 18th century cutting principles. Her latest collection was about "gold and treasure, adventure and exploration". Other influences in Westwood's work have included Peru, feminine figure, velvet and knitwear.
Artistic collections
The first major retrospective of her work was shown in 2004-5 at the Victoria and Albert Museum, London, and the National Gallery of Australia. The exhibition was made up of around 145 complete outfits, grouped into the themes, from the early 1970s to the present day, drawn from her own personal archive and the V&A's extensive collection. They range from early punk garments to glamorous "historical" evening gowns. The retrospective is touring the world and is set to continue until 2008.
Her Autumn/Winter 2005/06 Propaganda Collection drew inspiration from her archive, reinterpreting designs using Wolford's exclusive knitting technology, who she has worked in close collaboration with since 2003. In 2006, collaborated with Nine West. These shoes are not designed directly by Westwood, however, the Nine West brand name shares its label with Westwood. Her hats for Gold Label and MAN are created by Prudence Millinery for Vivienne Westwood.
In December 2003, she and the Wedgwood pottery company launched a series of tea sets featuring her designs.
Artistic influence
Throughout her career, Westwood has been influential in launching the careers of other designers into the British fashion industry. Most notably, she employed the services of Patrick Cox to design shoes for her Clint Eastwood collection in 1984. The result was a prototype of the nine inch heeled shoes in which supermodel
Naomi Campbell famously fell during a Westwood fashion show in Paris in 1994
.
In May 2006, Westwood wrote a poem and provided personal photographs eulogising Swallows Wood, a Nature Reserve near Tintwistle where she was born and grew up. The Reserve is threatened with destruction by the construction of the Longdendale Bypass.
Political involvement

Westwood is also widely known as a political activist. On Easter Sunday 2008, she campaigned in person at the biggest Campaign for Nuclear disarmament demonstration in ten years, at the Atomic Weapons Establishment, Aldermaston in Berkshire, UK.[
In September 2005, Westwood joined forces with the British civil rights group Liberty and launched exclusive limited design T-shirts and
baby wear bearing the slogan I AM NOT A TERRORIST, please don't arrest me
. Westwood said she was supporting the campaign and defending habeas corpus.
"When I was a schoolgirl my history teacher, Mr. Scott, began to take classes in civic affairs. The first thing he explained to us was the fundamental rule of law embodied in habeas corpus. He spoke with pride of civilisation and democracy. The hatred of arbitrary arrest by the lettres de cachet of the French monarchy caused the storming of the Bastille. We can only take democracy for granted if we insist on our liberty", she said.
The sale of the £50 T-shirts raised funds for the organisation. Dame Vivienne has recently stated on television that she has transferred her long standing support for the Labour Party to the Conservative Party, over the issues of civil liberties and human rights.
Recognition

In 2007 Glossopdale Community College named one of its newly created houses, Westwood, after Vivienne. Westwood accepted a DBE in the 2006 New Year's Honours List for services to fashion, and has thrice earned the award for British Designer of the Year. On a more personal level, Westwood is the godmother of highfashion model and socialite lady Elissa Spencer-Wilhelmsen Ainsworth, and was the one who discovered designer Rosamund Lodge-Ainsworth who happens to be Lady Elissa's sister in law, after marrying lord Philip Spencer-Wilhelmsen Ainsworth. Westwood designed the wedding dress together with the bride, and attended the wedding along with her sons like normal guests.

Children

* Ben Westwood, son of Vivienne and Derek Westwood, is a photographer of erotica.
* Joseph Corre, son of Vivienne Westwood and Malcolm McLaren, founder of lingerie brand Agent Provocateur.

Controversy

Notorious for going knicker-less, she caused a stir in 1992 when she came to collect the OBE, and twirled to reveal all. After being made a Dame in 2006 by the Prince of Wales she disclosed that she was knicker-less again.



http://www.viviennewestwood.co.uk/flash.php